From the scenic views to the community that lives here, there are so many reasons to love Roanoke Island. But another huge feature of this charming town is its restaurant scene, which, each year, grows more vibrant and diverse, featuring some of the best foods around!
Here are a few of the best restaurants to check out on your next visit!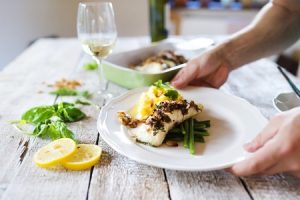 Because what's a visit to Roanoke Island without first hitting the seafood?
Located right on the marina, this eatery features a lunch and dinner menu teeming with the latest catches offshore, in all sorts of creative variations.
Think everything from shrimp and country ham bucatini pasta, to Baja fish tacos.
If you're looking for a more upscale experience, yet still want that rustic Outer Banks charm, then set 1587 as your destination.
Its fare can best be described as worldly, or global, as its menu has everything from Chinese pork belly, to New Zealand rack of lamb. There's truly something for everyone at 1587, providing you with an elegant and relaxed dining experience.
What's not to love in a name like that?
With years of experience on the waterfront, The Hungry Pelican specializes in two things: deli sandwiches, and ice cream. The sandwiches mirror New York heroes, with plenty of options to choose from, and the ice cream is just one of the incredible dessert options available here.
Finally, no trip to Roanoke Island would be complete without a stop at Stripers. This award-winning institution blends the traditional with the modern, in an innovative and delicious way. The best part is the 'catch and cook,' where you can take your catch of the day, choose a style of grilling, and sit back and enjoy your hard work!
If you're planning a visit to the Island soon, don't forget to set aside time for Roanoke's best restaurants! And when you're full and ready to rest, book a comfortable stay at Island House Bed and Breakfast. Call us at 888-255-7561 to learn more about making a reservation with us!